"That four great nations..."
75 Jahre Nürnberger Prozess
75 Years Nuremberg Trial
available since November 2020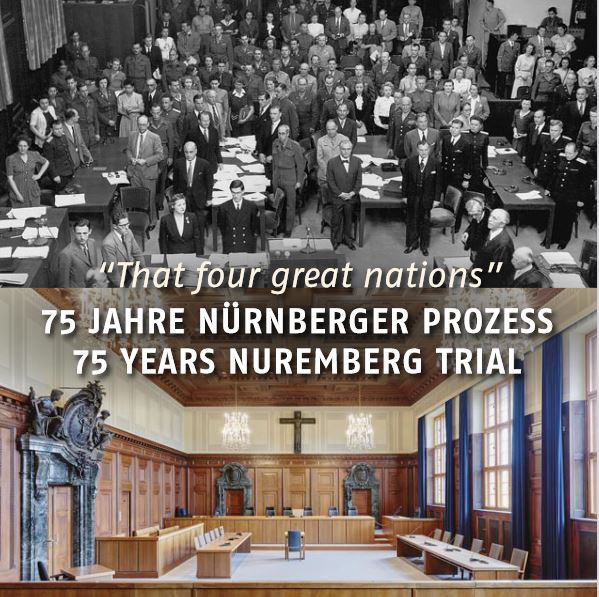 In November 2020, the anthology "That four great nations" has been published on the occasion of the opening of the Nuremberg Trials 75 years ago. The editor is the Memorium of the Nuremberg Trials, which is also celebrating its tenth anniversary.
Authors from the former four Allied states and Germany approach the historic event and its impact on the present and the future with different focuses and from various professional backgrounds, as well as from their respective national narratives and sometimes also subjective perspectives.
The publication is published bilingually in English and German by Michael Imhof Verlag.
Cost: € 12.95 plus shipping
The publication can be purchased on site at the Memorium Nuremberg Trials or ordered online. Please use our contact form to order the anniversary publication for the outlined fee. Please state the number of copies you wish to order, your delivery and billing address, and the publication language you require. We will then send you a confirmation and an invoice.
The authors

Thomas Eser
is an art historian and is serving as Director of the Nuremberg Municipal Museums.

Henrike Claussen
is an historian and headed the Memorium Nuremberg Trials from 2015 to 2020. In September 2020, Claussen took over the position of Director of the Forum Recht Foundation based in Karlsruhe.

Thomas Dickert
is a lawyer and is President of the Nuremberg Higher Regional Court.

Viviane Dittrich
is Deputy Director of the International Nuremberg Principles Academy and Visiting Fellow at the Center for International Studies of the London School of Economics and Political Science.

Benjamin Ferencz
is a lawyer and was chief prosecutor in the ninth Subsequent Nuremberg Trial, the Einsatzgruppen Trial in 1947/48.

Julia Kantor
is historian, publicist and Chief Scientist for the Saint Petersburg Institute of History in the Russian Academy of Sciences and a Professor at the Russian State Pedagogical University "A. I. Herzen."

Philippe Sands
is a writer, lawyer for international law and as professor at University College London, he heads the Centre for International Courts and Tribunals there.

Christian Delage
is an historian and filmmaker. He is professor and Director of the Institute d'histoire du temps présent of the University Paris 8 Vincennes – St Denis.

Annette Weinke
is an historian and teaches Modern and Contemporary History at the Friedrich-Schiller-University Jena.

Elizabeth Silkes
is the Executive Director of the International Coalition of Sites of Conscience, a network for historical sites, museums and memorials, based in New York.